BLACKVUE DR750S-2CH Dash Camera
SKU: DR750S-2CH
Our Price (inc gst):
$ 599.00
Description
- Dual Full HD (1080P + 1080P)
- 2.1MP SONY STARVIS Sensor
- Smartphone App (iOS or Android)
- Up to 256GB SD Compatible*
- 2 Year Australian Warranty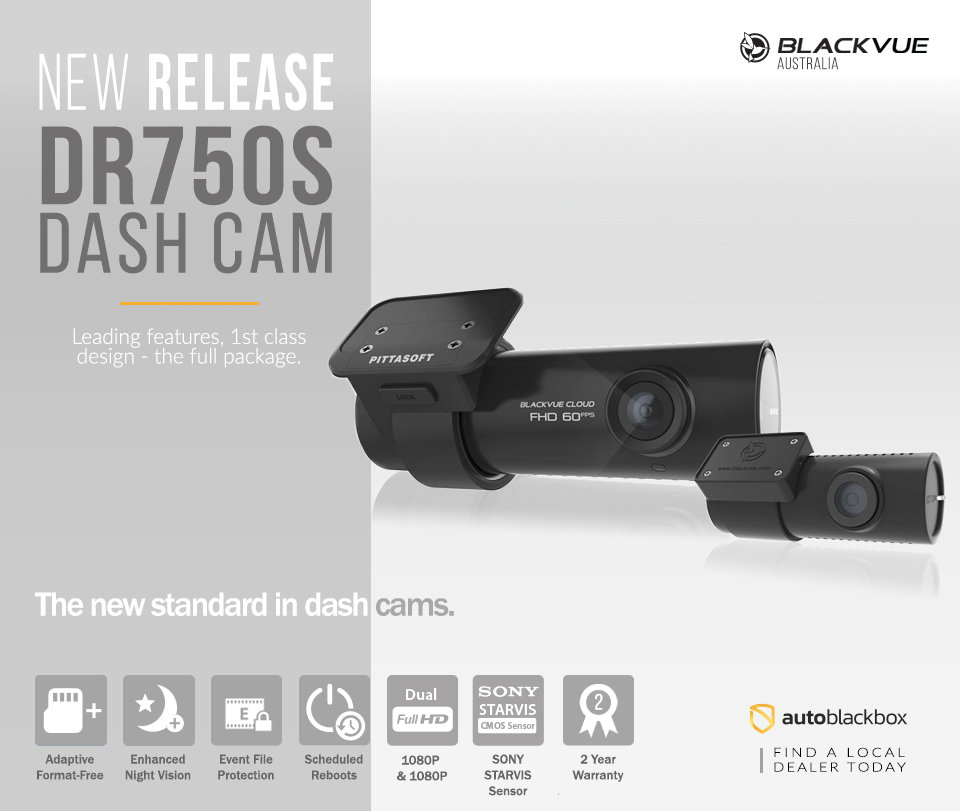 Promo Video
An overview of the new features.
Optimised File Management
Event Files Overwrite Protection: Up to 50 files will be protected from deletion when saved in the system as event files. Event files can be triggered by tapping the camera, or will be automatically triggered in an accident due to braking or impact detection.

Format-Free Technology Your BlackVue saves and organises files on the microSD card in a new efficient way. Greatly reducing the need for regular SD card formatting and preventing file corruption events after long uses.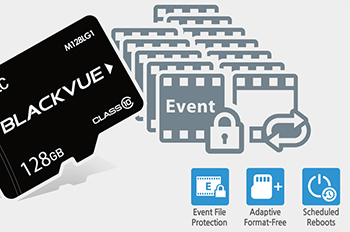 Built-in GPS & WiFi
Unlike competitor models: the BlackVue DR750S houses GPS & WiFi built-in to the device. This makes for a cleaner installation with less cables to worry about. GPS provides speed recording on the footage and location view on playback. WiFi enables the user to download files to their smart-phone or adjust settings; removing the need to take the SD card out for simple tasks.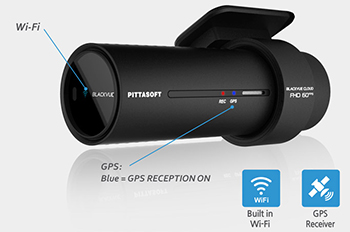 DUAL 1080P Recording
High quality Sony STARVIS™ sensors @ 2.1MP, offer dual 1080P Full HD resolution at up to 60 fps - providing smooth recording and license plate recognition. The user can also choose to increase the cameras bit rate up to 12mb/s + 10mb/s (rear) for improved video quality.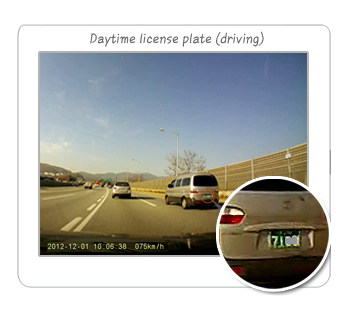 The SONY Starvis Difference
The Sony STARVIS™ image sensors that equip both the front and rear cameras of the DR750S-2CH deliver outstanding low-light performance. For those who want even more brightness in dark environments, the DR750S-2CH features Enhanced Night Vision. When activated, it boosts the ISO sensitivity in low light without blowing up the highlights in bright surroundings.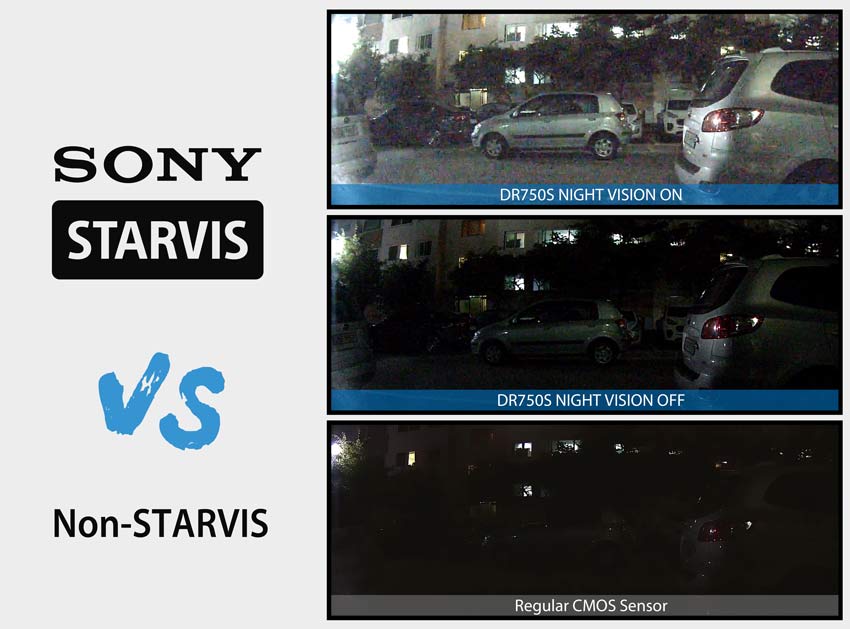 Up to 60FPS - Smoother Videos
For smoother videos than ever before, with great clarity; the BlackVue DR750S records in 60FPS on the front & 30FPS on the rear. See details easier, capture license plates and more with double the amount of pictures being taken.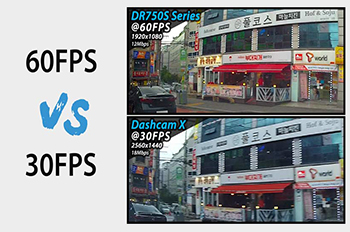 BlackVue Viewing Software Mac + Windows
The BlackVue viewing software can be accessed by inserting the cameras SD card into a PC. The viewing software enables the user to check footage, change the time zone, adjust user options, playback footage in slow motion and more. Compatible with Mac & Windows.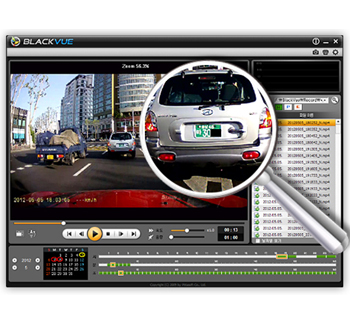 Enhanced Night Vision
The BlackVue DR750S series offers exceptional night vision recording for when your car is stationary and in Parking Mode. Furthermore, the BlackVue will only save files if motion or impact is detected.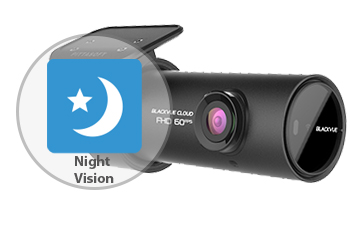 Discreet Black Themed Design
Like the previous series, the DR750S is designed with style and discreteness in mind. The all black cylindrical design is to hide the camera when installed in your vehicle from preying eyes. BlackVue cameras are one of the most discrete cameras on the market.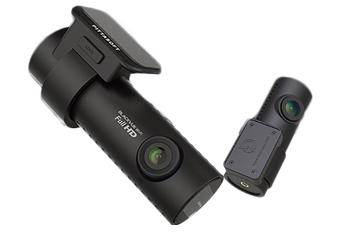 Everything You Need
The DR750S-2CH comes with a complete kit including two cameras, mounting brackets, cigarette lighter plug for easy installation, manuals, cable clips and a coax cable to connect the front and rear camera.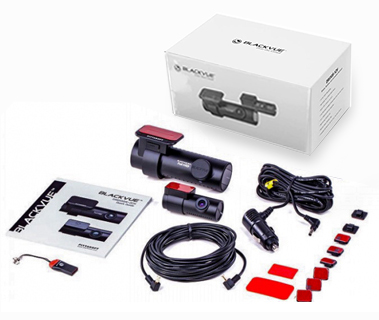 Parking Mode CCTV
BlackVue systems have the ability to run in Parking Mode, monitoring your car when you're not around. When wired in with the Power Magic Pro or the Battery B-112; this mode will activate when the car is off.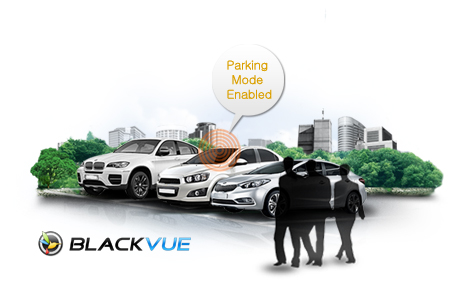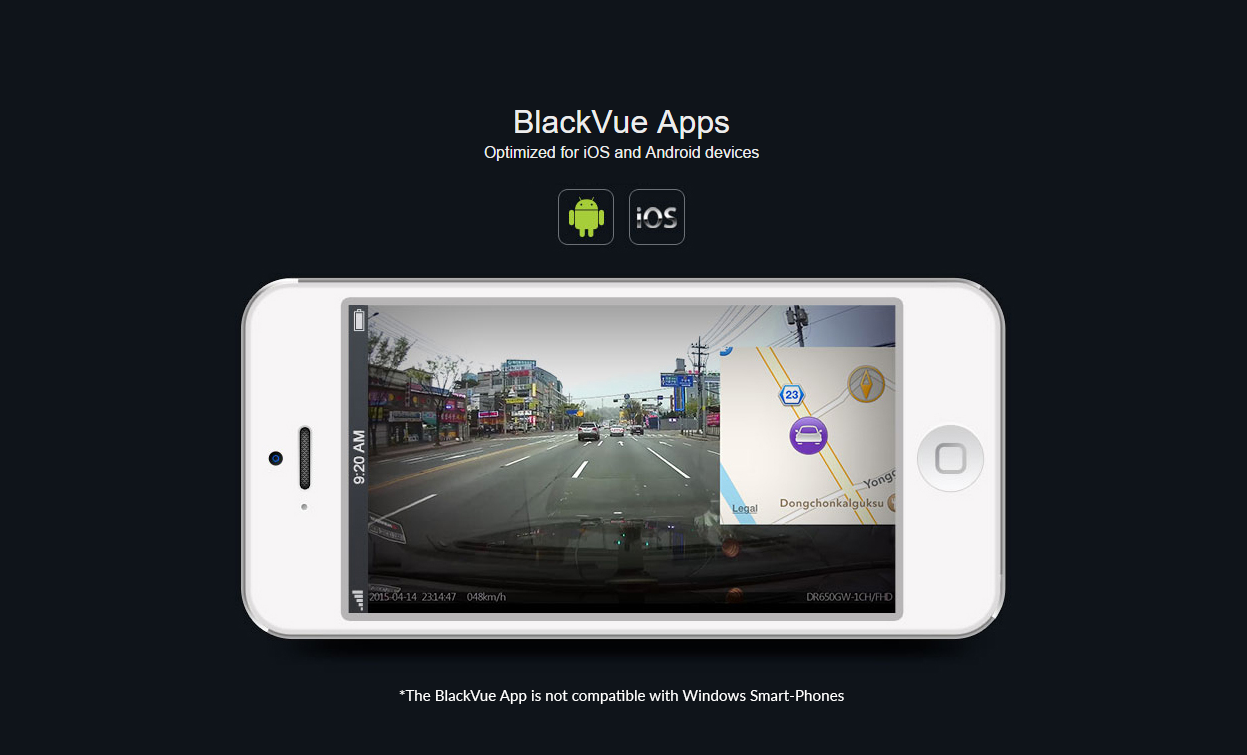 PC Player Software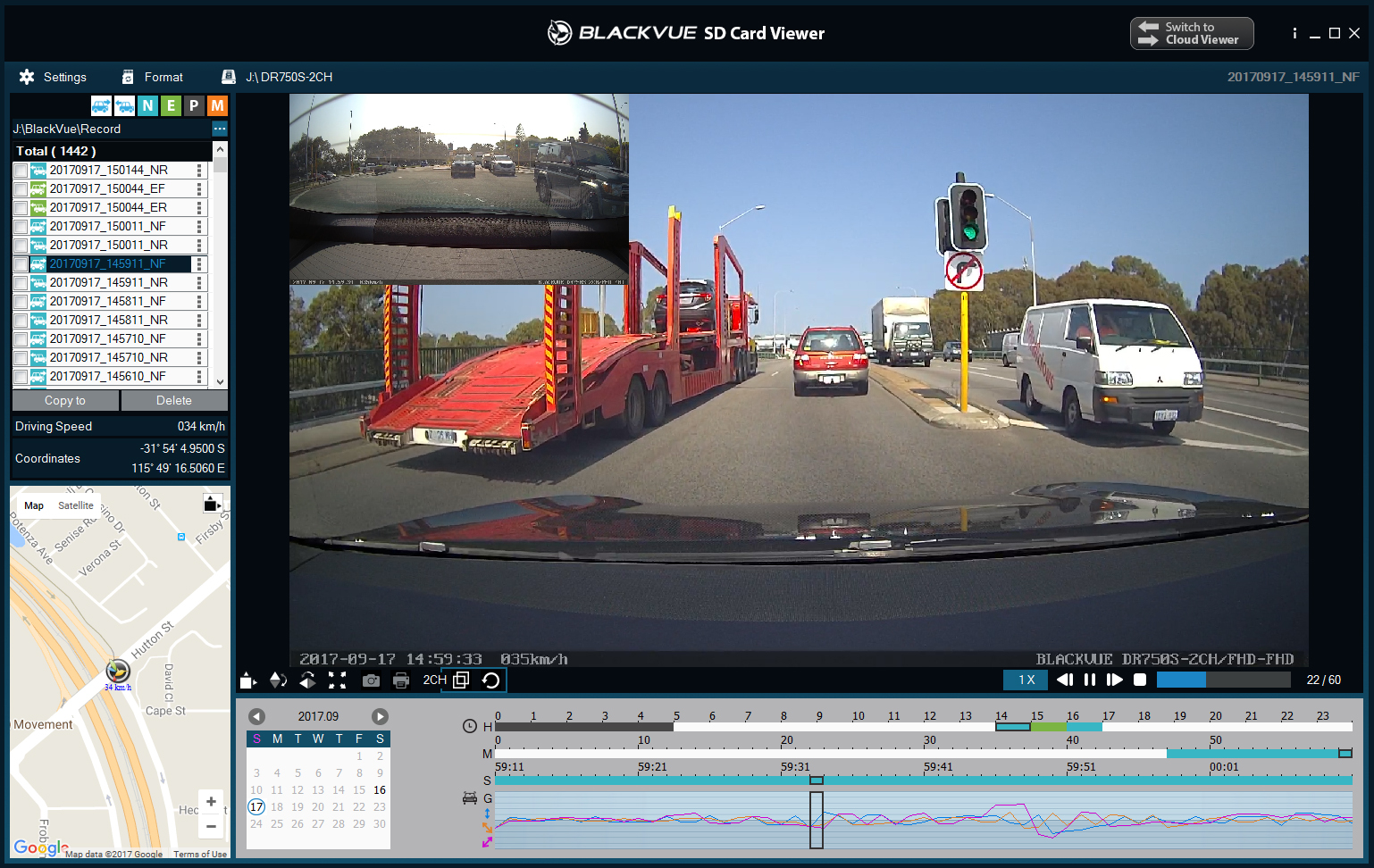 In The Box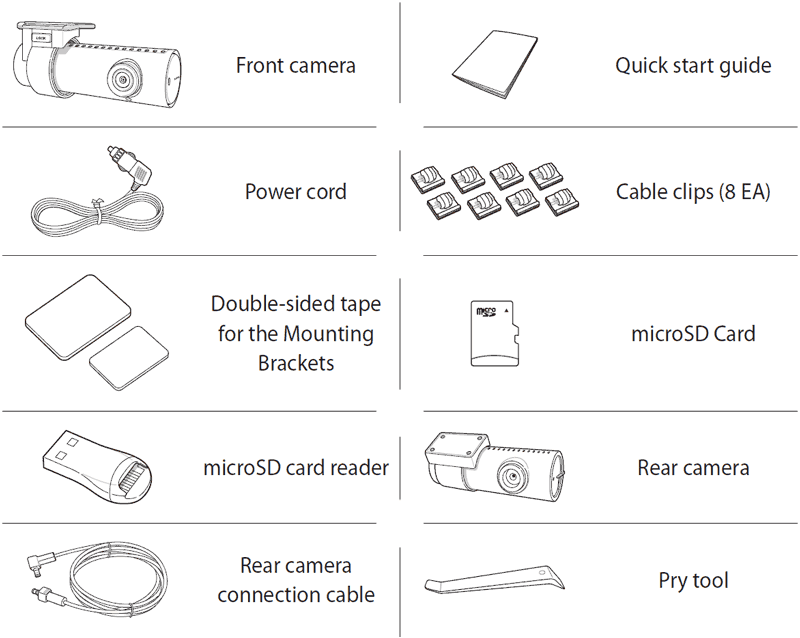 Recording Times:
Model
Memory Capacity
Image Quality
Resolution
DR750S-2CH
Full HD @60fps
+ Full HD @30fps
Full HD @30fps
+ Full HD @30fps
Full HD @30fps
+ HD @30fps
HD @30fps
+ HD @30fps
16GB
Highest
1 HR 25 MIN
1 HR 25 MIN
1 HR 35 MIN
2 HR
High
1 HR 50 MIN
1 HR 50 MIN
2 HR
2 HR 40 MIN
Normal
2 HR 20 MIN
2 HR 20 MIN
2 HR 40 MIN
4 HR
32GB
Highest
2 HR 50 MIN
2 HR 50 MIN
3 HR 10 MIN
4 HR
High
3 HR 40 MIN
3 HR 40 MIN
4 HR
5 HR 20 MIN
Normal
4 HR 40 MIN
4 HR 40 MIN
5 HR 20 MIN
8 HR
64GB
Highest
5 HR 40 MIN
5 HR 40 MIN
6 HR 20 MIN
8 HR
High
7 HR 20 MIN
7 HR 20 MIN
8 HR
10 HR 40 MIN
Normal
9 HR 20 MIN
9 HR 20 MIN
10 HR 40 MIN
16 HR
128GB
Highest
11 HR 20 MIN
11 HR 20 MIN
12 HR 40 MIN
16 HR
High
15 HR 40 MIN
15 HR 40 MIN
16 HR
21 HR 20 MIN
Normal
18 HR 40
18 HR 40 MIN
21 HR 20 MIN
32 HR
Bitrate
Front
Highest
12 Mbps
12 Mbps
12 Mbps
8 Mbps
High
x
10 Mbps
10 Mbps
6 Mbps
Normal
x
8 Mbps
8 Mbps
4 Mbps
Rear
Highest
10 Mbps
10 Mbps
8 Mbps
8 Mbps
High
x
8 Mbps
6 Mbps
6 Mbps
Normal
x
6 Mbps
4 Mbps
4 Mbps
Specifications:
*Please note: 64GB & 128GB SD Cards must be purchased through Auto BlackBox for guaranteed compatibility.
| | |
| --- | --- |
| Quality Video & Audio | Camera: 1/4" 2.1MP Sony STARVIS™ (Front & Rear) |
| Standard SD Memory Card | Supports up to 128GB Micro SD Card* (Class 10 Pittasoft only) |
| Loop Recording | System overwrites the oldest data to make room for new data once full |
| Wide Angle View | Front Camera 139' Degrees | Rear 139' Degrees |
| Video Format | MP4 |
| Reversible Design | 360' Rotational body recording various direction |
| Recording Speed | 60fps Sport Mode / 30fps Frames per second/ 15fps Frames per second |
| Image Resolution | Full HD 1920x1080px (Front) | Full HD 1920x1080px (Rear) |
| Motion Detection | Yes in Parking Mode (requires power magic pro) |
| Data Compression | Highly Efficient H.264 |
| Built-in Format Function | Yes (Press & Hold WiFi button for 10 seconds) |
| Built-in WiFi Adapter | Yes (For use with free smart-phone App) |
| Built-in G-Sensor | Yes |
| CCTV Using PCU | Surveillance camera function using Power Control Unit |
| GPS Receiver | Built-in Highly Sensitive SIRF III Antennae |
| Recording Options | Normal, Parking, Event (Activated by shock) |
| Camera Size & Weight | Front - 108.5mm x 36.0mm / 114grams |
| Operational Temp | -20'C ~ 80'C |
| Power Supply | 12V/24V DC |
| Power Consumption | 12V /0.20A |
| Warranty | 2 Year (Australian Genuine Warranty) |
| Compliance Marks | C-TICK (N28189) KC, FCC, CE, RoHS, Telec |
| Manufacturer | Pittasoft Co., Ltd (Auto BlackBox Australian Importer) |